Its not my fault they let me loose....
the ward attendant said they needed the extra bed space!
August 1999, Barb, Jim, Patrick, Joshua
Hey! My name is Jim Cochran. My wife is Barbara, and we have two tax deductions; Patrick and Joshua, and one on the way, April of 2000....yes, a Y2K baby ...lol.
ANNOUCNING!!
On April 2, 2000, at 12:49 A.M. in Springfield MO, after causing his mother Barbara to be in labor for the previous 24+ hours, Brandon Nicholas Cochran arrived in St Johns Hospital, as he wished to be close to his mother. He was 7 lbs, 9 oz, 21 inches long, and came with hair intact, of a dark brown color. A very active child while in the womb, so far he has greeted his new
surroundigs in awe and quiet for the most part. ( me thinks this to change dramatically soon!!--editor ) He claims as his siblings, Patrick and Joshua. Patrick being the oldest, taking it with typical teenage ho-hum attitude on the surface, but having to pry the new package out of his arms in reality. Five year old Joshua was not to sure at first...and I quote, when asked what to do with him, his reply was "leave him here!" But soon took up with the idea upon being allowed to hold his newest lil' brer'.
http://freepages.genealogy.rootsweb.com/~cochran/2apr2000.jpg

to see day-after Polaroids of the latest Fuji moment of the clan Cochran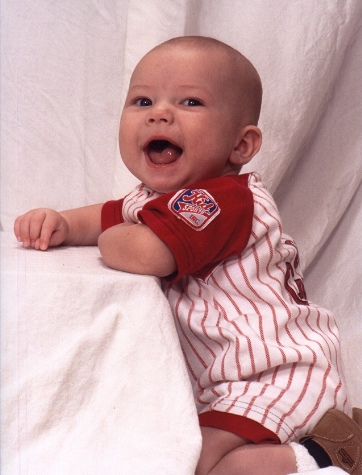 We live in the South West part of Missouri, and NO, not in Branson, either.
My online hobbies mostly revolve around genealogy, but I like the ease in which you can keep up to date on other things also. Such as SPORTS!! Yes, I suffer from T.M.S.-Typical Male Syndrome. Read on.....
Some of my favorite movies are:
OUT ON A LIMB with Mathew Broderick (which is where I got the name for this page)
GETTYSBURG with Martin Sheen and Tom Berringer.."cuz wer'e a-fightin' fer our rats."
WIZARD OF OZ "wer'e not in Kansas any more Toto!" of course not....your'e in Ted Turner's colorized vault!
JUST LINKING AROUND........
Keep checking back. Constantly adding and changing.
Try My Fast URL home: http://clik.to/outonalimb
CREATED ON: MAY 15 1997 AND UPDATED ON: 26 July 2003
---